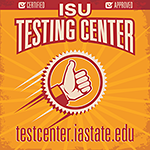 Iowa State is committed to increasing online testing capacity to serve students. In collaboration with the Government of the Student Body we are taking several measures to improve online testing services. Our Online Testing Center now has new locations, expanded hours and a new website. Find out more about these improvements!
Two Testing Center locations will be open during Dead Week.
60 Carver and 2552 Gilman will be open Saturday, December 6 – Thursday, December 11 from 8:00 am to 8:00 pm. Also Friday, December 12 from 8:00 am to 10:00 pm.
The full schedule is located here.