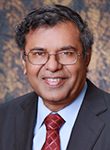 Dr. Sadanand D. Joshi, President of Joshi Technologies International, Inc. (JTI) of Tulsa, Oklahoma, is well known around the world in the petroleum industry for his contributions in developing horizontal well technology to produce crude oil and natural gas. JTI, which he founded in 1988, produces oil and gas in the U.S., Colombia, Ecuador, and India.
Dr. Joshi received his M.Tech. in Mechanical Engineering from the Indian Institute of Technology – Bombay in 1975 and completed his Ph.D. in the same discipline at Iowa State University, Ames, IA, in 1978. Earlier, he obtained a B.S. Degree in Mechanical Engineering from W.C.E. College, Sangli, in Maharashtra, India.
Major achievements include nearly 50 technical papers published in the Society of Petroleum Engineers (SPE), American Association of Petroleum Geologists (AAPG), Petroleum Society of Canadian Institute of Mining (CIM) and other industry journals; his delivery of more than 200 lectures in 30 countries; serving as a Distinguished Lecturer for the 80,000 member Society of Petroleum Engineers for the 1995-96 season; and being named "One of the 100 Most Influential People of the Petroleum Century" by Hart Publications in 2000. In 2012, he received the Anson Marston Medal from his alma mater, Iowa State University, for his outstanding engineering contribution to the oil industry.
Dr. Joshi has authored the best-selling book, Horizontal Well Technology, which was published in 1991 by PennWell Publishing Company, Tulsa, Oklahoma. He also co- authored the book Geological Aspects of Horizontal Drilling with R. D. Fritz and M. K. Horn, published by the American Association of Petroleum Geologists, Tulsa, Oklahoma, 1991.
Dr. Joshi is a member of the Society of Petroleum Engineers, American Association of Petroleum Geologists, and the American Society of Mechanical Engineers. He is also a Board Member of the Tulsa Chamber of Commerce and a member of the US Chamber of Commerce/US India Business Council.