Registration Cost:

$175 

USD

Register Now

Course Hours:

~2.5 hours
Preview Course for Free

Course Start Date:

Upon registration
   

Course Access Time:

12 months

Continuing Education Units (CEUs):

0.5
 

Course Description
Low back injuries represent a significant problem to industry. As the Federal Agency responsible for conducting research and making recommendations for the prevention of work-related injury and illness, the National Institute for Occupational Safety and Health (NIOSH) recognized this, and in 1993 developed an evaluation tool called the NIOSH Lifting Equation. The equation is fairly straightforward requiring the user to input a variety of information describing the lifting task (e.g. how far the load is away from the body, how frequently the lifts are performed, how far off of the ground the load is, how much the person needs to twist their spine to perform the lifting). The equation then provides an evaluation of this lifting task and describes the relative risk of the task.
Learning Outcome
Learn how to prevent lower back injuries in the workplace
Understand the anatomy and physiology of the back
Learn how the back gets injured
Understand nature of statics in back injuries
Assess risk of individual lifting tasks
Calculate risk association with specific injuries
Course Outline
Module 1: Introduction to Spine Biomechanics
Module 2: Simple Statics
Module 3: The NIOSH Lifting Equation
Module 4: Laboratory Exercise
Module 5: Closing Remarks
Course Procedures
The course begins the date we receive your registration and payment. Upon recieving your payment, we will send you a username and password in order to access the course Web site. There are approximately 2 hours 27 minutes of online lessons. The $175 (USD) non-refundable registration fee must be paid in advance to Iowa State University. After successful completion of the course, you will receive 0.5 Continuing Education Unites (CEUs). There is no assessment for this course.
Course Materials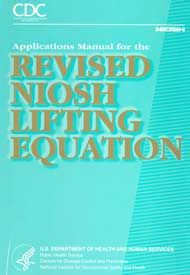 Application Manual for the Revised NIOSH Lifting Equation, (Free PDF Manual from CDC)
Instructor
| | |
| --- | --- |
| | Dr. Gary Mirka is the John Ryder Professor and College of Engineering Associate Dean for Education at Iowa State University. He teaches such topics as Applied Ergonomics and Work Design, Occupational Biomechanics, and other ergonomics courses. He also manages the Ergonomics Lab at ISU to conduct research in the areas of occupational biomechanics, occupational safety, human performance augmentation, cognitive ergonomics, and human computer interactions (HCI). His research interests are in the area of occupational safety and ergonomics with particular emphasis on spine biomechanics, low back injury prevention and ergonomic intervention effectiveness research. His research efforts have taken him into the construction, agriculture, commercial fishing, and furniture manufacturing industries. Dr. Mirka was the recipient of the 1993 Volvo Award for Low Back Pain Research. |
Contact Information
Contact pd.elo@iastate.edu or call 1-800-854-1675 for more information.