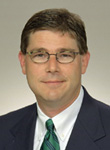 Gregory (Greg) S. Churchill is executive vice president and chief operating officer of Rockwell Collins Government Systems.  Churchill provides leadership for all Government Systems businesses.  He was named to the position in May 2002.
Churchill, who is a 28-year employee, had been vice president and general manager of Business and Regional Systems since June 2001. Churchill held several business development and program management positions before being named vice president of Business Development for Government Systems in February 2000.
A native of Cedar Rapids, Iowa, Churchill earned a Bachelor of Science degree in Industrial Administration from Iowa State University.
Churchill is a member of the following organizations:  American Institute of Aeronautics and Astronautics, Airlift Tanker Association, Army Aviation Association of America, Armed Forces Communications and Electronics Association, American Helicopter Society, Association of the U.S. Army, Navy League and the National Defense Industrial Association.
Churchill is a member of the Engineering College Industrial Advisory Council for Iowa State University and serves on the board of directors for the National Czech and Slovak Museum and Cedar Rapids Baseball Club.