This page contains a number of tips to remember when recording your class live in one of the ELO supported classrooms.
Microphone Positioning:

On a blouse or dress, pinch the fabric together if needed to ensure the mic clip is secure.
Be aware of the mic, you want to avoid blocking or bumping the mic while you are recording.
Turn the microphone pack on by pressing and holding the power button so that the green indicator light appears; alert the student producer if the light is red or if the light is off at any time during the recording.
Check the microphone pack's battery life at the start of your lecture-it should have a minimum of three bars.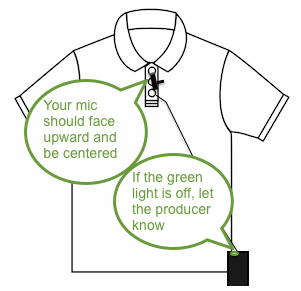 During the class:

The instructor should avoid pacing or wandering around the capture area.
When answering questions from students in the classroom or online, repeat or rephrase the question prior to responding to ensure that all students have heard the question clearly.
Seek the participation of distance education online students during the class.
Students will not be able to see what you are pointing to on a projector screen or writing on a whiteboard, please use available technology (Wacom, ELMO)
Only capture group work on video if students are speaking one at a time. Speak to ELO for assistance with specific activities.
For class notes:

Work with the producer to ensure any annotations are posted via Cybox to your Canvas page.
If connecting a personal laptop, please be aware that lecture note annotations will not be saved
Review best practices for Preparing and Sharing Lecture Video Content.
Ongoing Communication:

Post a course schedule to your Canvas page before classes begin
Be accessible and respond to student inquiries in a timely manner via email, phone or other well-established communication tools
Post a brief announcement regularly to keep distance students informed of all important deadlines
Use additional tools such as announcements, discussion boards, online office hours, virtual help sessions, targeted video sessions, etc.
For live distance presentations:

Have students/guest presenters contact elotech@iastate.edu for a test run at least 2 days prior to presentation
Share specific dates and details with ELO, including your student producer
To save class time, consider providing the presentations on Canvas instead for example, on a graded discussion board.
Special Requests:

Talk to ELO about options for capturing student discussion one month prior to the start of the semester.
Contact ELO early (about a week in advance) for special requests that may affect the class recording content/schedule
Videos can be played and captured with the exception of proprietary/copyrighted videos.