With the rapidly changing technological landscape in engineering industries, an advanced degree or certificate is becoming increasingly necessary. Iowa State University's Department of Electrical and Computer Engineering (ECpE) offers a master's degree option in electrical engineering, offered 100 percent online, to help you advance your knowledge and career.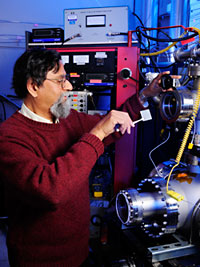 You can choose a specialized area of study that interests you:
Communications and signal processing
Electric power and energy systems
Electromagnetics, microwave, and nondestructive evaluation
Systems and controls
Students may join the program at the beginning of any semester and may take graduate courses in any order at a pace that suits your needs.  Classes are delivered online via digital streaming video.  Students may choose the day, time, and location to observe the class lectures, allowing for maximum flexibility.
Admission Requirements
Prospective students are encourage to apply for admission at least one month prior to the beginning of the semester. For fall admission, apply by July 15; for spring admission, apply by December 1. Students may take up to 9 credits as a non-degree seeking student , so it is possible to begin your studies before formal admittance into the program.  Admission and application procedures for the Electrical Engineering graduate programs are on the ECpE department page and on the Office of Admissions page.
Application Materials:
3 letters of recommendation
A statement of purpose
A general application
GRE scores are required only if your undergraduate GPA is below 3.0 or if you have less than two years of full-time employment.
Degree Requirements
Coursework Only Option
To complete the Master of Engineering in Electrical Engineering program, you need:
A minimum of 30 credit hours of coursework (No fewer than 22 of these credits shall be earned at Iowa State.)
At least 24 of the 30 credit hours of coursework must be from electrical and computer engineering, with 12 of those credits from a single area of focus and six from outside the area of focus.
Independent Study credits (EE 590) may be taken as often as desired, but only 3 credit hours may be counted toward the credit requirements for your program of study.
Courses
Visit the ELO courses page for classes currently available. Learn more about the Enrollment Process for Online and Distance Learning.
Contact Information