Engineering-LAS Online Learning offers two scholarships to online students every Fall and Spring term.

Students taking 3 or more online courses via ELO are eligible to apply.

Degree-seeking online students who are active duty military, Veteran, Reserves, National Guard, and Gold Star Spouses taking 3 or more online credits offered via ELO are eligible to apply.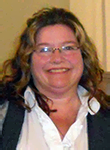 Congratulations to Tracy Havener, our ELO Online BLS Scholarship recipient!  Tracey is a non-traditional distance student working on her Bachelor's of Liberal Studies.  After being a professional and currently a stay at home mom, she is completing the BLS degree to increase her career opportunities when she returns to the workforce.