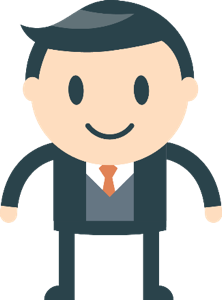 John is trying to record lecture videos for his online course. He met with ELO Design and Development and decided to use the ELO Recording Studio. As daunting as it sounded in the first place, he found recording online lecture videos was not a tedious process once he got started. Here are a few tips he found useful to help you get started with your first recording session.
Create a folder for your course. You can name your folder with your course code and number (e.g. ECON 101). You can use this folder as a repository of the materials you will be using to record your lectures. You can use a folder structure as shown below to organize your various files (e.g., PowerPoint presentation slides, PDF files, etc.) into folders that can help you store and retrieve your files more easily.

After creating your folder structure, copy your files to their respective folders.
Test your files to make sure they are at a desired size and resolution.
Ensure that all the equipment (i.e., headset or microphone) you will need is available and appropriately connected to iMac. Is the headset connected?

Ensure that the headset is plugged in to iMac.

Using the Headset
For improved audio quality, put the headset on and adjust the proximity of the microphone to your mouth.
For the best performance, the microphone should be positioned near your chin without being in front of your mouth. This ensures that the microphone is in close proximity to the sound source without being exposed to possible plosives.
You can use the inline control to adjust the volume of the sound in your headphone and mute your microphone.
You can mute the microphone by pressing the button once. When the microphone is muted, the light in the inline control will be blinking. When you press the button again, the microphone will unmuted. Please ensure that the light is not blinking when you start recording.
* If there is any problems with the setup or the equipment in the room, please contact ELO Design and Development at 515-294-4601.