Students taking courses through ELO will be required to have an ISU Net-ID. ELO will continue to use Canvas as a portal to your class information and materials.
What are the Benefits of a NetID?
ISU NetID is free to obtain.
Used to access your courses in Canvas.
Access your university billings, grades, and student information via Access Plus.
Access campus computers as well as the ISU eLibrary.
Access specialized software over network.  Software supported by various Engineering Departments, including campus license software (Ex. MAT LAB).
Have CyMail for your course work.  It can also be forwarded to your personal email account.
What is ISU Net-ID and Canvas?
Use this card to obtain your ISU NetID.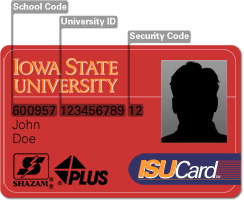 The ISU Net-ID allows students to access Canvas  courses in which they are enrolled and to access the library and departmental software from remote locations. The ISU Canvas server maps students to the appropriate Canvas course by accessing class lists from the Registrar's Office. The server, which is located in Academic Information Technology, retrieves the names of those names of those enrolled in a class from the Registrar's Office and paces those names onto the class list of the appropriate Canvas course. This process is only possible if each student has an ISU Net-ID. Access to a NetID takes approximately 7-10 days total.  In past semesters, we have issued exception ID's (w.johndoe). Canvas does not allow exception IDs.  More importantly, an ISU net-ID safeguards your class records. For these reasons, we now require all students to obtain an ISU Net-ID prior to course access. This change will allow ELO to more efficiently and effectively manage course delivery.
How to Obtain an ISU Net-ID?
In order to obtain an ISU Net-ID, you must have an ISU Card Number issued from Iowa State University. ELO will send you an email message to you with the number before the semester starts (allow 7-10 days for this to occur). Once you receive the number, please follow the steps below to create you ISU Net-ID.
Those of you who have previously taken courses from ISU, or have recently graduated from ISU, should already have received a red ISU card or e-mail notification from ISU Continuing Education and Communication Services. Follow the instructions at the end of this page in order to obtain your ISU Net-ID.
If you don't know your card number or you have lost you card, please contact ELO at elo@iastate.edu. We can retrieve your card number for you.
First Time Taking Course from ISU:
Those who are registering in our ISU courses for the first time, or those who have never been issued an ISU Card, you will receive an email message from ELO with your ISU Card Numbers after you submit your registration from.
Getting your ISU Net ID:
Click on "Register" to create your Net-ID.
Fill in your required information, including ISU Card Numbers.
Click the "Next" button.
Write down your Net-ID and password. You will need them to log on to Canvas
ISU will take a few days to process your Net-ID.
Once you get your Net-ID, please contact ELO (elo@iastate.edu) to let us know your Net-ID. When you register for a course next time, you will be asked to give your ISU Net-ID on the Registration Form.
You will have course access a few days before class starts.
Now, you are ready to take courses from ELO at ISU. Log into Canvas.