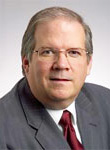 James D. Waters, Jr., retired from Caterpillar on October 1, 2010.
Jim became Vice President of the Caterpillar Production Center of Excellence on December 1, 2005.  This division is leading an enterprise transformation of manufacturing systems to help set a "gold standard" for quality, safety, and speed in industry.  Jim provided leadership to this enterprise effort, drawing on his strong systems and process skills as well as his product and manufacturing management experience gained in Japan, the UK, and the US.
Jim joined Caterpillar in 1978 as an engineering co-op trainee.  After graduating from Iowa State University in 1981 with a BS in Electrical Engineering, he worked in manufacturing where he was responsible for the development and implementation of vision-based robotic welding technology.  He was appointed Factory Superintendent/Manufacturing Engineering Manager, and three years later moved to Japan's Shin Caterpillar Mitsubishi (a joint venture between Caterpillar and Mitsubishi Heavy Industries) hydraulic excavator development.  He has held numerous positions ranging from coordinating manufacturing plans for hydraulic excavator manufacturing in France, United States, Belgium, and Japan to Component Design Department Manager.
In 1994, Jim accepted the position of Managing Director of Production, and with it the responsibility for Manufacturing Operations in Sagami and Akashi, Japan.  At that time, he also became a Board Member for Shin Caterpillar Mitsubishi.  He moved to England in 1996, where he had direct responsibility for all building and construction equipment manufactured and/or sold into Europe including factories in Leicester and Stockton, England.
In 2002, Jim became General Manager of the Hydraulics and Hydraulic Systems business in Joliet, Illinois.  He was responsible for the company's hydraulic components and integrated systems, including operations in Joliet, IL; Sumter, SC; and Jesi, Italy. Waters holds a patent, which he received in 1985, for algorithms related to adaptive welding.
Jim is Past Chairman of the Engineering College Industrial Advisory Council at Iowa State University and Co-chairman of the Rialto Square Theater Capital Campaign. Jim has been a long time supporter of the Juvenile Diabetes Research Foundation, and is currently serving as a member of the Community Advisory Panel for the Central Illinois Walk to Cure Diabetes.
In his retirement, Jim continues to work with Iowa State and the Rialto theater in Joliet.  In addition, he is Vice Chairman of an oil and gas equipment manufacturing company named Basin Tools. Finally, he started a small consulting firm, Monarch Consulting LLC.