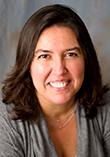 Iowa State University's Engineering-LAS Online Learning system has named its first faculty fellow — Ana-Paula Correia, an associate professor from the School of Education whose research focuses on learning design.
The decision to create the faculty fellowship is in part an effort to publicize the success of online education at Iowa State.
Engineering-LAS Online Learning oversees the online education efforts of two colleges – the College of Liberal Arts and Sciences and the College of Engineering. Online course enrollment in these colleges is growing by 15 to 20 percent each year, aided by an arsenal of talented faculty members instructing the offered courses.
Read more about ELO's first faculty fellow, Dr. Ana-Paula Correia.